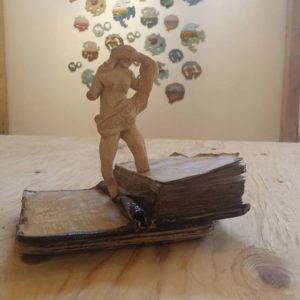 I make small sculptures from stoneware figures combined with found objects. These works use un-monumental scale and  concinnity – a harmonious arrangement or fitting together  – to combine materials to create thought provoking twists about women and also about our home lives.
These small sculptures  are delicate and suggestive of vulnerabiity as well as the fragility of selfhood and how we survive.  installations like Small Promethean Acts  are created by siting these small sculptures en masse with additional sound, film or performance. In making them I  aim to create dialogues about domesticity, value, care and visibility in society.

I use assemblage techniques as a methodological approach to re-configure and multiply meaning. By combining ordinary domestic objects with gestural stoneware figures, these surprising and playful arrangements explore order and disorder in the relationships between humans and things. The gestures of the fractured clay figures engender subjective response creating empathy and affectivity. In combination with a domestic found object the human figure acquires a new symbolism in relation to. The resulting dialogue between performs and engages with narratives and stories of the self.
Just as each individual small-scale sculpture creates a narrative, the intention of creating installations with up to 50 plus sculptures celebrates en masse the diversity of experience. The installation becomes like a grotto that collects objects of veneration and the figures become a tribute to women and carers.
Creating an accumulation of small figures is a big way of celebrating the domestic as well as giving value to small caring (Promethean) acts. Collecting and representing incidental and unmonumental stories I hope will enable us to think differently about the value of care and enable many women to feel that their stories are not insignificant, that their stories count.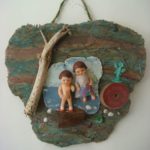 If you would like to see more installations and sculptures from my archive please click on a link:
combine small found objects with writing and poetry. They propose that we 'think through things', exploring our relationship with our physical world and the performance of words are performed on a 3-dimensional plane. Installations of over 100 pieces have been shown around the UK over the years.