I make small sculptures from stoneware figures combined with found objects to create dialogue about value and visibility. These works use un-monumental scale and concinnity – a harmonious arrangement or fitting together – to make visible and celebrate small caring (Promethean) acts.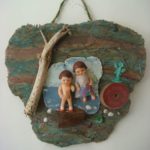 More installations and sculptures from my archives
Objets-textes combine small found objects with writing and poetry. They propose that we 'think through things', exploring our relationship with our physical world and the performance of words are performed on a 3-dimensional plane. Installations of over 100 pieces have been shown around the UK.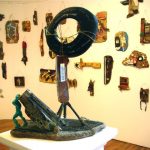 Other installation projects:
domestic mottoes larger installations using domestic objects and text
Lover's Lettersceramic tree plaque project at Kestle Barton Gallery & Grounds