Delpha Hudson was born in London in 1963. She lives and works in Cornwall. She has degrees in History (London University 1985), Fine Art (Coventry University 2001) and an MA Dartington College (2003). She has curated Arts Council funded projects with artist-led groups Art Surgery (1998-2008), Salon de Textes (2008-14) and worked with the Hypatia Trust (2018-2020).
She has had solo performance and film work commissioned for Newlyn Art Gallery (2010, 2001) and Tate St Ives (2007), and created live performance and installations for Leyden Gallery ((2017), HAB Arts (Manchester, 2017), Ca'Zanardi (Venice, 2016), RESOUND festival (2013), Suspended Sentences (Newlyn, 2013), Insite Festival (Cornwall, 2009), TRUCK festival (2008), Performance in nature (Serbia, 2005), Crossing Time Festival (2004), The Tabernacle (Notting Hill 2004), Birmingham Mailbox Festival (2004) ) Art what is it good for? (curated by Tracey Warr, Dartington Hall, 2004), Surface Gallery (Nottingham, 2003), Exeter HEM (2003), SEEN (Leicester 2003), AAS (Birmingham, 2003) VAIN (Oxford, 2002), Custard Factory, (Birmingham1998), Solihull Gallery (2000)
Sculpture and installation works have been shown at the RWA (2009) Kestle Barton (2012) with her most recent residency and exhibition at Artcore Gallery (Derby, 2019). Other residencies include English Heritage (Helmsley Castle, 2001) & Wolverhampton University (2005).
Film work has been shown at Tremenheere Gallery (2021), Exeter Phoenix (2005 & 2020), EVG (Cornwall, 2011) SQUARE EYES (Dublin, 2015), REVOLVER (Penzance, 2008), Scottish Society of Art (2005), Tulca (2005), Truro Cathedral (2008), Wild Dog & Newlyn Art Gallery (2002).
Delpha's paintings are regularly on show at Tremenheere Gallery with Newlyn Society of Artists (2010-22) and many have been selected for online exhibitions; Maternochonics, FILIA, Maternal Art, the Curator's Salon, IMPART by Cultivate, Procreate & Kingsgate Gallery (2021). Solo shows include Clifton Fine Art (2018), Acorn Theatre Gallery (2017), Redwing Gallery (2017), Helston Museum Gallery (2014), The Window (Birmingham 2006),. Group shows include Distanced Domestic (London, 2021), Platform 1 Gallery (London, 2018), Mariner's Gallery (St Ives, 2014) Heseltine Gallery (2014), Mariners Gallery (St Ives, 2013), Anima-Mundi Gallery, (2013) HOME (Omskirk, 2012), Marburae Gallery (2012), Art Lounge (Derby, 2012), Double Lives (Nottingham, 2012), Tactile Bosch (Cardiff, 2012), Redearth Gallery (Devon, 2012), St Ives School of Art (2012) Hilton Young (2008).
In 2021 Delpha published her writing and performance project Theatre of the Self with Arts Council & Cultivator funding. Other publications and talks include Tea with MAM (2020), On resilience (2020), INDIALOGUE (2019), Objets-Textes (2013), Lover's Letters (2012), Liquid Selves: the fragmentary and multiple nature of Self (2011) Revolver (2008), Art Cornwall Now (2007), BAIT (Cornwall, 2005) A body of work (University of Coventry, 2003).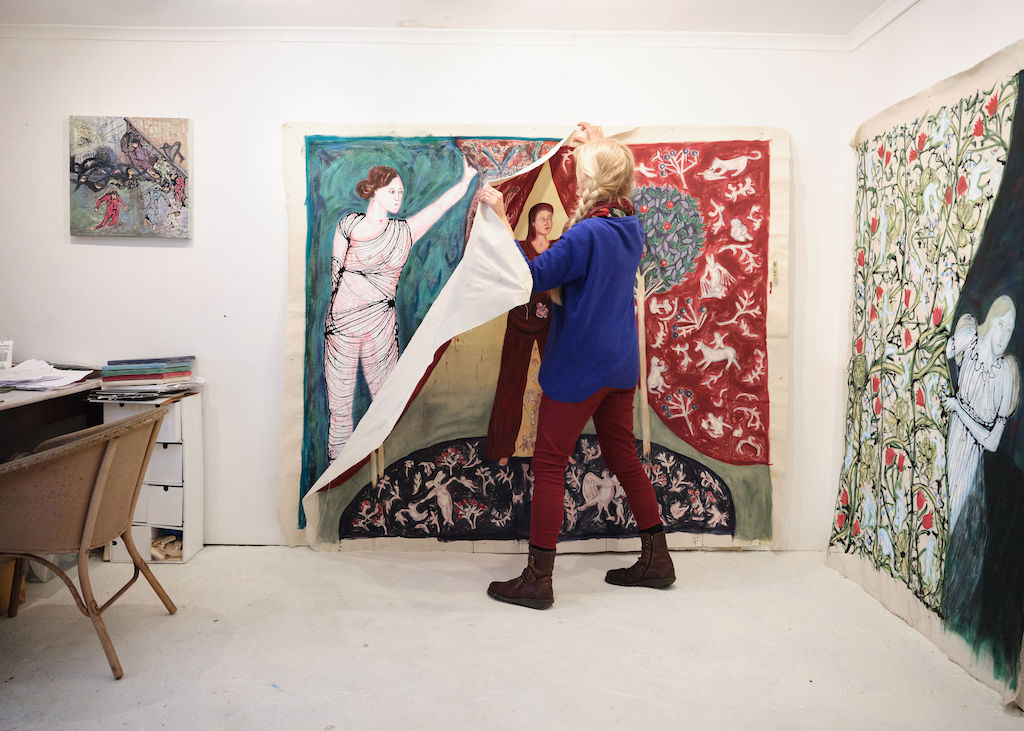 Artist's CV
MA Visual Performance, Dartington College of Arts (2003)
BA Hons Fine Art, Solihull, Coventry University (2001)
Media Studies (City & Guilds 770), Solihull College (1994)
PGCE, Institute of Education, London University (1986)
BA Hons History, Westfield College, London University (1985
Selected Art Projects
2023
Under/Over G12 Gallery, Redruth group show curated by Liam Jolly
NSA Showcase, Tremenheere Gallery
Between Sky and Earth, group show about connectivity, community and ecology by Periscope at SVA Stroud.
Ironing the sky, performance collaboration with Helen Sargeant at the Men-an-Tol
Penwith Gallery, Associate Member Group Show, Engage NSA show at Tremenheere Gallery
2022
Group show The Map is not the Territory at Tremenheere Gallery & Sculpture Gardens
Porthmeor Studios Residency in Studio 9.
Synesthesia a collaborative programme by Plymouth Arts, & Dateagle promoting art and writing.
Group show Memory at Tremenheere Gallery & Sculpture Gardens
Paintings selected for online shows IMPART & others.
2021
Model Children and other People selected by curator Lisa Wright for Past, Present & Future exhibition Tremenheere Gallery, Cornwall
Paintings selected for online shows Maternochronics & others.
Works on paper shown at Distanced Domestic by co.curation, London & Extraordinary Postcards, Newlyn & Exchange Art Gallery
Publication of Theatre of the Self a performance project book with mental health diaries. Supported by Arts Council & Cultivator
Online interviews with Helen Sargent on Tea with MAM, Carianne Vivianette On resilience and with Ryya Bread's Creative Core
Selected for funded mentoring with Ceri Hand
Film: Like a ship righting itself shown at Exeter Phoenix and Swept under the rug on show at Tremenheere Gallery
2020
Encased in a new Silence, in Edge of Dark, Tremenheere Gallery, Cornwall curated by Jesse-Leroy Smith
Work on paper selected for Extraordinary Postcards, Newlyn & Exchange Art Gallery
Paintings selected for Kingsgate Gallery (online & print)
Paintings long listed for Mother Art Prize (online)
Paintings short listed for Confinement Chronicles
2019
Small Promethean Acts Residency and exhibition at Artcore Gallery, Derby
Presentation of work at INdialogue at Mansions of the Future, Lincoln
2018
Domestopia paintings on show at Clifton Fine Art, Bristol
Paintings on show at Platform 1 Gallery, London with desperateartwives
2017
Bear-heamian Rhapsody, commissioned performance with collaborator Nigel Bispham for Haphazard, Hab arts, Manchester
Metaphysical Positions solo painting show at the Acorn Theatre, Penzance
Embodied solo painting show at Redwing Gallery, Penzance
Double Burden, performance, Leyden Gallery, London. Curated by desperateartwives
Sculpture in Borders at Tremenheere Sculpture Gardens
2016
Place settings, sound performance collaboration at ca'Zanardi, Venice
2015
Life Sentences, performance film, CAZ square Eyes, Dublin
2014
Liquid Selves paintings at Helsetine Gallery with Newlyn Society of Artists
2013
RED HERRING! sound performance collaboration at Suspended Sentences, Newlyn
Saw Sings (Sourcings), sound art performance with Nigel Bispham at CAZ RESOUND sound art festival, the Acorn Theatre
Liquid Selves, solo painting exhibition at Helston Museum Gallery
Through, drawings at Drawing the Line, at Anima-Mundi Gallery, St Ives
Liquid Selves paintings at Mariner's Gallery, St Ives
2012
Lovers' Letters, ceramic installation SITE-NON-SITE, at Kestle Barton Gallery
Liquid Selves paintings shown at Marburae Gallery; Off the Shelf, Saltburn; the Art Lounge, Derby; Double Lives, Nottingham; Tactile Bosch, Cardiff; Redearth gallery, Devon; St Ives School of Art
2011
Vox Populi film project commissioned by Electronic Village Galleries, Penryn, Zennor, Liskeard
2010
Possessed Possessions, collaborative assemblage works and performance Newlyn Exchange gallery
Bitumen curtain paintings, HOME, Chapel Gallery, Omskirk
2009
Object Readings, performance Insite, Cornwall Autonomous Zone, Penzance
Objets-Textes, assemblage installation at RWA Bristol exhibition
2008
Bitumen curtain paintings selected for Hilton Young Gallery, Penzance
Walking a tortoise (femme flaneur), film and painting shown between Truro cathedral and the Vitreous Gallery, Truro
Handbag Readings, performance at Fete Encounter live art at TRUCK festival, Oxford
2007
Miss-Readings site-specific performance commission for Tate St Ives as part of its Cornwall Art Now show
2006
Salon de Textes, project curation of text and performance in a domestic setting, Chapel Street, Penzance. Supported by CAZ & Arts Council England
1,000 Kisses, site-specific performance commission for The Window Gallery, Birmingham
2005
Comfort Zones, digital photographs & film shown at Wolverhampton University Residency
On The margin film shown at Tulca, Ireland; Body Parts Festival, Scottish Society of Art, Edinburgh; Performance in Nature festival, Serbia; The Phoenix, Exeter
2004
Pleasure in Slowness, site-specific performance commission with Helen Battelley at Mailbox Intervention Festival, B'ham
Dos Palabras, performance and film installation commissioned for Stringing a Sentence Together, at the Tabernacle, Notting Hill, London
Dead Women Walking, performance at Dartington Hall. Part of Art, what is it good for? curated by Tracey Warr
2003
Something's Fishy, performance commission for Surface Gallery, Nottingham
Tealady, commissioned performance for SEEN festival, Leicester
Singing Theory, performance for We Are Relentless by AAS, the Custard Factory, B'ham
Inte(xt)change, street performance commission for Exeter HEM festival
2002
To the Lighthouse (and Back), film at Newlyn Art Gallery & Wild Dog Festival, London
M/Utter, performance at Crossing Time Festival, Devon
Man Created the Word, re-performance at VAIN's Live Art Platform, Oxford
2001
Double-Void, performance, film and installation, Newlyn Art Gallery
Written in Honey, performative site-specific installation for Helmsley Castle, Yorkshire, English Heritage Residency
2000
A Walk with Jane Austen, performance tour with film performance installation, Solihull Library Gallery
1999- 2008 Co-director of Art Surgery with Andy Whall, artist-led curation of live art and site specific performance projects. Real Art (and a Sense of Place) 1999, Arts Council funded Live Art Project programme Tract, (2007), Live Platform (2003), Videoteque (2002)
1998
Loss, sculpture installation as part of Negate Nothing at Custard Factory, Birmingham
This site features recent painting and current projects for other art works go to Delpha's Project Archive
Find out more about latest projects on Delpha's news blog