Artist's Statement
I paint chaotic and bizarre domestic scenes of every day life. Surreal and dystopian figures gesture as if from a medieval illuminated manuscript, or an Old Master like Bosch or Michelangelo, but twisted somehow.
Richly textured compositions on canvas use a technique of dripping bitumen, or work on paper uses ink to create dynamic networks or patterns from which figures weave a narrative.
I choreograph powerful female protagonists and situate them in new imaginary realms in order to challenge domestic legacies. Paintings aim to make women and mothers visible. They often laugh at or reveal the devious psychology of denigration or idealisation. Sharing chaotic stories about our common condition aims to engage empathy and engender change.
Paintings use personal and political strategies to propose that through out our lives, we play many different roles. Visually reconstructing our stories and Selves, through madness and mimicry we draw on the past to revision future possibilities. Paintings portray our potential to live with paradox and ambivalence and explore how we might change our stories to survive.
Biography
Delpha Hudson has always painted but completed a BA in History at London University in 1985, had 4 children, then abandoned painting again to concentrate on socially engaged interdisciplinary projects about women, mothers and equality. She completed her BA Fine Art (Coventry University, 2001) and MA in Visual Performance (Dartington College, 2003).
With commissions for film, live art, installation & performance from Tate St Ives, Newlyn & Exchange Gallery, and many others, Delpha also co-curated Arts Council funded exhibitions with art collectives including Art Surgery and Salon de Textes.
Juggling teaching and mothering Delpha developed her own resonant studio practice & painting style, often using dripped bitumen and oil paint on canvas to create rich tapestries of dark yet colourful scenes that aim to re-shape thinking about women, equality and visibility, often representing the Self as always in flux.
Developing narrative works on paper during 2020, Delpha also published her book & project Theatre of the Self with funding from Arts Council & Cultivator. Her paintings have been shown and sold all around the UK in unusual spaces as well as galleries.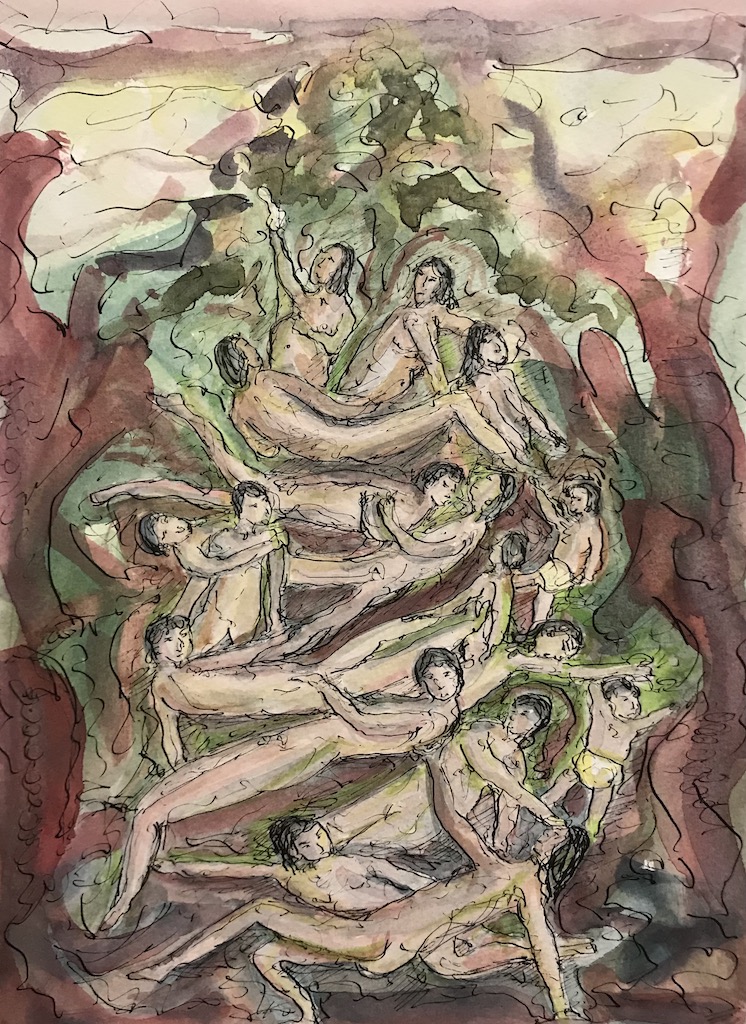 More writing by Delpha on contemporary painting:
Sometimes you have to wait for the mood to change, a new language to be invented before you can speak up.
Figurative paintings create layers of dust from which to excavate everyday life. I make dark and whimsical paintings that unravel meaning and aim to reground human experience by satirizing historical narratives and reconstructing gender inequalities.
Paintings are medieval, classic, cartoonesque, macabre, and excessive, with a sense of the absurd. Paintings use abundant playful figures that are fantastical through sheer numbers.
They use a vast range of complex references that and pull you backwards and forwards through time, challenging historical hierarchies of painting – often with cherubic clinging children in tow.
I use colour intuitively and a kind of 'narrative informalism' to create relationships between abstraction and figuration, dynamic materials in flux, and interior surreal worlds with busy corporeality and movement. Recurring themes and motifs operate on different levels of narrative composition and aim to encourage everyone to 'withness' – to see and empathise with women's lived experiences.
By creating a productive disorientation of historical grand narratives, I think of painting as social work; creating new languages in which to change old narratives, and create new vehicles for ourselves and for the world around us, that call for change.