Research and writing is very much at the heart of Delpha's art practice and this page makes available some of her thinking around paintings and other texts by writers about her work.
'I love bizarre multilayer obscure imagery in painting and like to attach my own meanings, imaginings and associations. So whilst I question my own (and others) need to label, describe and tell their intentions, I often write to discover my own intent AND this enables me to attach cultural and societal meaning that might ameliorate the lives and stories of women and carers.' Delpha Hudson 2021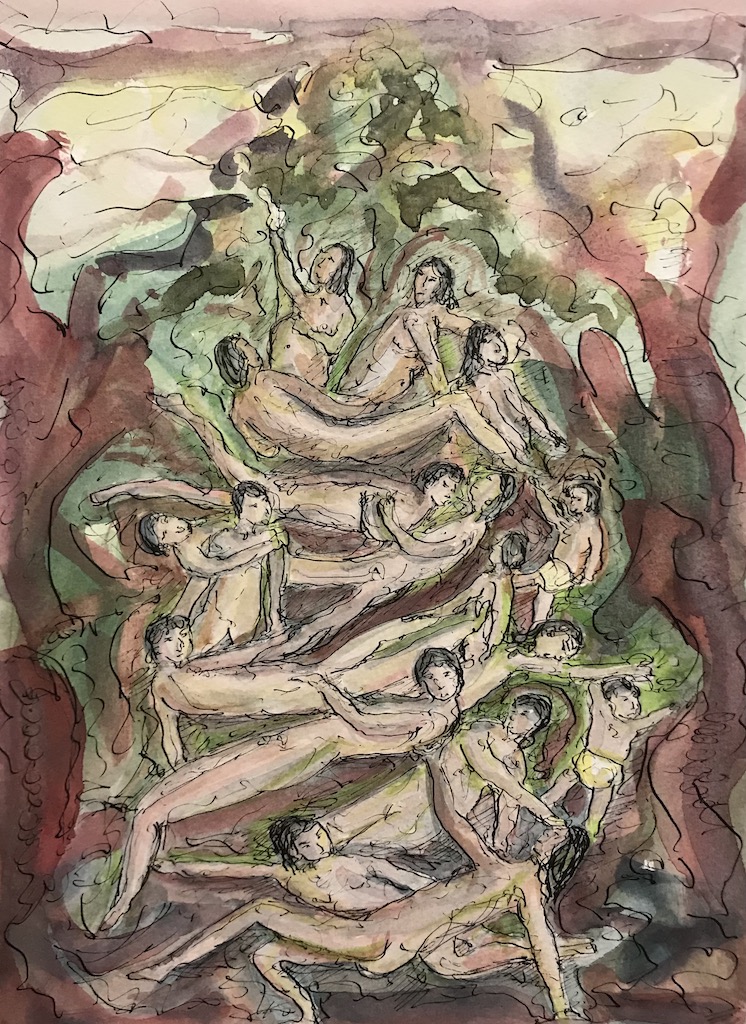 Read a re view of Delpha's work by Martin Holman 2020
'Recent paintings are distinctive for the hive of detailed making on which the final surface rests. Process extends from the intricacy of drawing to the complexity of composition and on toward the application of colour. Executed on a canvas support, Hudson has adopted bitumen as a medium, dripping a viscous trail onto the primed surface. Even more so than oil paint, bitumen is a tricky, dirty material' …read more of Martin Holman's review
Old and new symbolism: the case of the mermaid
One of the things that drew me to Cornwall were myths, and ancient symbolism, and especially the famously curious Mermaid carving at Zennor. Studying art and feminism in 1996 I wrote about this ancient symbol because I was fascinated in how meanings of ancient symbols morph and change. I was and am interested in how art can make visible the invisible and become an agent of social change – propaganda for women and equality if you like.
By 1998 I diverted my interest in painting and made performance art and video that obliquely referenced old symbols and transformative stories. In SATOR old texts, leg binding, buckets of sea water, mirrors & lipstick, Cornish egg stones and a wheelbarrow formed part of what I thought of as 'siren signifiers' that could reveal and re-write woman's ancient story of powerlessness.
Part-woman, part-fish, life giver and destroyer mermaids are one of many universal, transformative and indestructible myths about women. Following the symbolic and societal meanings attached to the mermaid throughout history I found mermaids an interesting example of symbols manipulated as propaganda – not only revealing women's societal position, but enforcing it. Since 'The Little Mermaid' it might seem that mermaids are not much more than a child's toy, or perhaps a lascivious representation of sexuality ('Splash,' 1984) yet the mermaid is useful for looking at how meanings associated with representation have been manipulated throughout history. -.
The mermaid symbol is a useful example of how female imagery is appropriated, exploited, yet remains as and a complex figure representing duality and powerful metamorphic potential. Every culture seems to have a mermaid, siren, 'morgan' a neried, to use a few of her names. From all these world myths come complexity and nuance about the nature of mermaids as a 'type' for the true nature of women. The stories abound of sightings by sailors (including famous explorers) and theories about how the half starved men might have mistaken a manatee for a mermaid. Surviving images, including church carvings and tracery from the Medieval era represent her with her comb and mirror, her beautiful curving lines alongside all kinds of strange beasts. Some interpret the mirror and comb as representations of, and a warning about women and vanity. Medieval patriarchal society used such imagery for a largely illiterate populace to expound ideas about a woman's place. As Edwin Mullins explains,
'There can only be one origin of so pervasive a desire to control woman, abuse woman to set her up in order to tear her down, enclose her in a labyrinth of moral strictures with so many blind exits she will never be free – and that is fear'.
Denigrating and debasing imagery of powerful characters, like mermaids, can be understood to be part of a propaganda campaign that confined women's power and erasing other associations. For late Victorian male painters, sirens and mermaids were beautiful sexual predators, each a femme fatale – powerless objects of their imaginations. For Surrealist painters of the twentieth century it was more complex, strange combinations and Surrealist reinventions abounded with their use of ancient imagery and women painters like Eileen Agar reimagined the power of female archetypes in order to subvert traditional values about women.
Realising that symbols are a mould in which the meanings of male dominated culture are poured, feminist artists of the 60s and 70s reinvented many powerful female figures. They used convincing evidence from Gnostic gospels and other ancient texts that matrixial societies and goddesses had existed, and taking icons and imagery into their own hands meant they could reinvest power in old symbols.
As Griselda Pollock writes:
'the very signs and meanings of art in our cultures have to be ruptured and transformed because traditional iconography works as women's attempts to represent themselves..'
Although she warns that their intentions are undermined by the meanings or connotations that specific iconographies carry, the very nub of looking at how symbolism operates and its potential to renew meaning.
I concluded in my 1996 writing that,
'I believe that our present and futures can be found in the past. Constructive and cognitive processes can produce reinventions of a social-minded nature that alter pre-perceptions and bring about change.'
Returning to the life giving potential and power of the mermaid symbol is not a simple operation. The attraction for me is the very ambiguous and contradictory nature of ancient symbolism. It is the innumerable thought operations that we manipulate as as we encounter old symbols and 'read' images that fascinates me. Figures energise the space around them, create new stories enabling us to interpret what we see and create relationships with our own stories.
Artists participate in a timeless reality that renews and revives lifeless symbols. A contemporary example of the mermaid symbol is its use to symbolise a significant charity for women in Cornwall. The Mermaid Centre is one of the best breast screening services for women in the country.
So instead of 'an over-optioned a system devoid of values', Suzy Gablik insists that new traditions can be based on old, that we should not mistrust ' bad infinites', as it is still possible recreate from old stereotypes and symbols humour and ideas that can serve to make societal change. In as sense the mermaid holds up a mirror to our lives and shows us that women have a role in re-imagining and re-imaging themselves – and the status of women in society. (December, 2021 to accompany a series of new small paintings that use medieval symbols)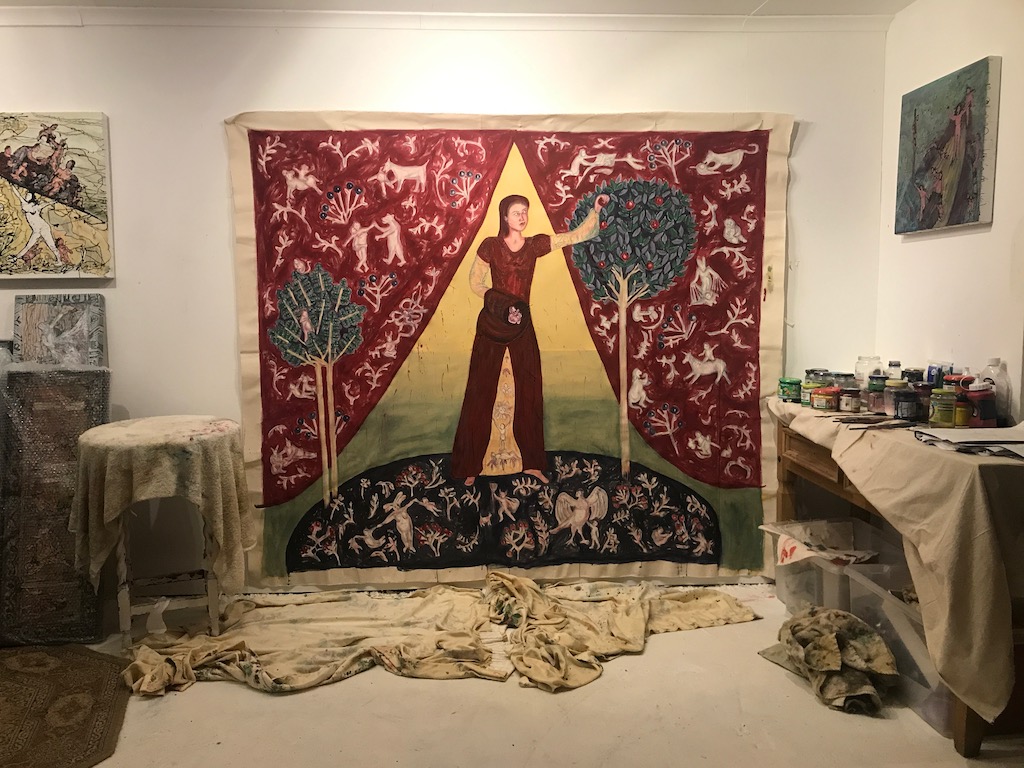 Painting notes for 'The sixth sense of understanding'
Whilst I don't often so directly reference other works of art (though like all painters appropriate constantly) I was drawn to the imagery, colours, and patterns in the most beautiful of all Tapestry Cycles La dame a Licorne a series of 15th century Flemish works in the style of mille-fleurs.
Interested in the symbolism of animals and plants and interpreting them, five of the tapestries are understood to depict the senses whilst the one I reference – the sixth tapestry's meaning is more obscure. It bears the words 'a mon seul desir' – 'to my desire', yet one of the interpretations I like best is that it is not about selfishness but represents the sixth sense – understanding. Since my paintings address care and empathy in order renegotiate status for such acts (often by women), re-appropriating some of the symbolism seems a perfect way to re-represent women's lived experiences.
I had been painting curtains, using the canvas as woven cloth to reference women's work and proposing affirmative change in domestic space. Figures invading household patterns, replacing the idea of merely looking (witness) with Ettinger's empathetic notion of 'with-ness'. We are all in the warp and weave of everyday life but asking questions about what we value.
Zooming in on central tent of the 'a mon seul desir' tapestry, the flaps of the tent in my painting become curtains. The central figure is a strange composite medieval-contemporary figure, who looks askance at the tree as she plucks a pomegranate. Pomegranates represent fertility, but also a pause in fertility—perhaps in myth and in life. She has a red dress with a panel featuring female figures in childbirth, Medusa and a baby roughly painted in her muff(!)
On the curtains and the floating sphere on which she stands, mythical and everyday creatures mix with pattern and become the pattern. It was a departure for me to include animals in painting. They became mythical creatures, metamorphosing half-women half beast composites. Aiming to humorously represent domestic lives of mothers and carers, I also wanted to create new transformative symbolism. I threw everything into the patterns – monsters, unicorns, rabbits, dancing bears, she-wolves, lions, bat women (Jorugama), a qualupalik (an Icelandic monster created to scare children away from the ice) stryx, babies riding goats, and children in unicorn T. shirts clutching cuddly toys.
The extreme eclectic mix becomes almost a carnivalesque experience, an alternate reality certainly, and an alternative space. Bakhtin's notion that the carnival creates an alternative social space characterised by freedom, equality and abundance is a useful one. During medieval carnivals rank was abolished and everyone was equal. People were reborn into different human relations. Useful ideas for ways in which we might transform and metamorphose representations of domestic life, women and carers.
Figures, animals and hybrid creatures find their way through our subconscious and can confront contemporary concerns. Ancient myths, symbols and patterns speak to us in the present and and offer visions of complex yet changeable realities. Delpha Hudson, December 2021
More writing exploring medieval contemporary painting will be written up and available soon. More painting notes available below.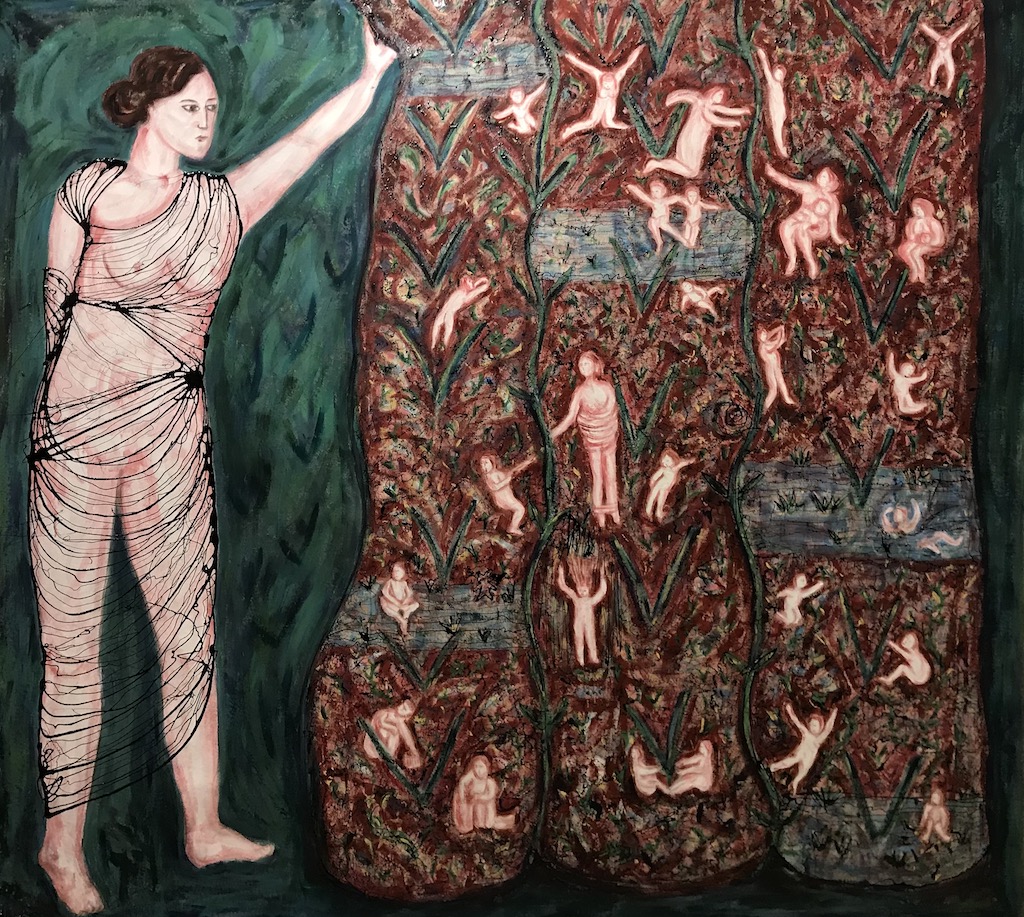 Despised and ashamed I tell you truly by them all I am condemned, 190x160cm, mixed media on canvas, 2021
This is the first of a series of new large paintings on canvas that feature tapestry-like curtains as the main stage on which narratives play out. For mental health reasons, I have for many years often visualised cloth or curtains to cover 'subjects' of anxiety. They help me to prevent hamster wheels in my head. Like shutting a book on an unpleasant chapter, you know it may open up again but it gives temporary respite. The process has had limited success as things always leak through,
yet it has helped to cloak some things until I could deal with them.
The title is a quote from Aechylus' play 'Clytemestra, and aims to mock societal condemnation of women that aggrevates their frequent feelings of guilt. Something that mothers and women so often experience. The painting's medievalesque figure-stories explore women caught between societal judgement and an inherent guilt that tells them they must be a fault. Visually exploring past and present reveals devious cultural psychologies that trap women in cycles of guilt and anxiety and
suggest that we share and laugh at our common condition in the hope that we can change society and ourselves.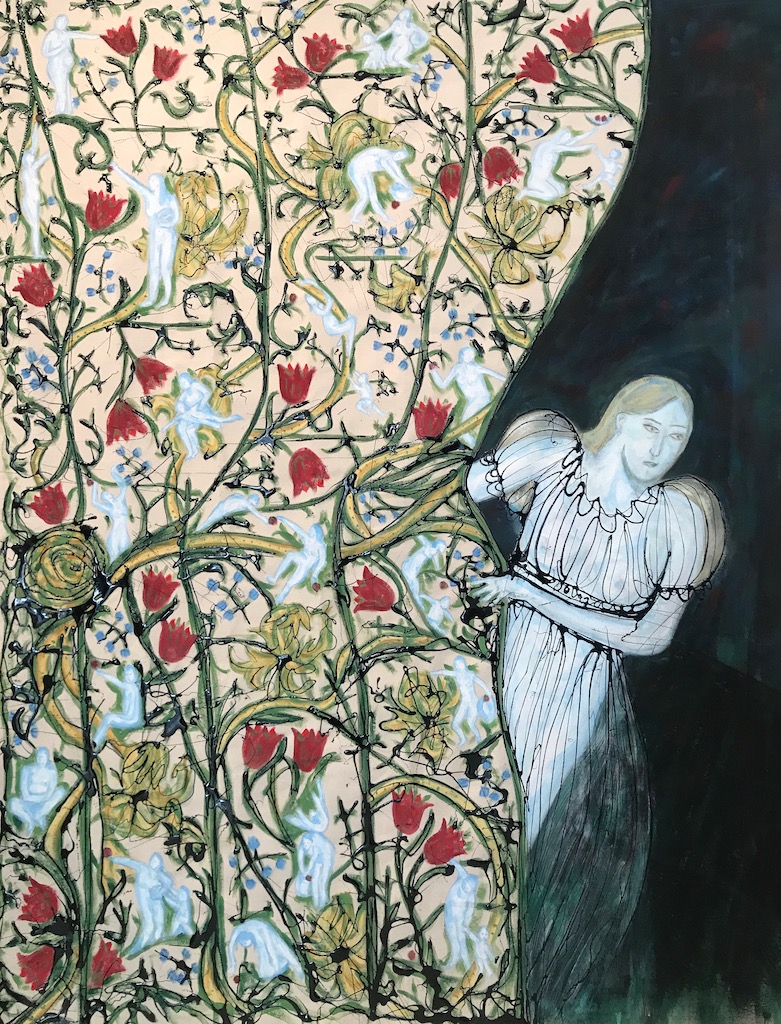 Consider the lilies… 150x180cm, mixed media canvas, 2021

I love the idea of a process that creates multiple paintings within a painting. The title is taken from a biblical quote that infers that we need not work or toil as all will be provided. This painting laughs at the implication as in patriarchal societies often it is women who do all the work. It also riffs on a famous lily pattern design textile and classical Italian painting with the figure who pulls back the curtain.

The lily pattern is eaten away and partly destroyed in replication and an additional cast of characters hide in its domestic undergrowth. They are all care-givers and home-workers. The loosely dripped black bitumen paint provides dark treacly textures that obscure and destroy the pattern further. The cloth, the linen and the material (the subject and object) of painting create an interplay between our material senses and our experiences. Patterning becomes a language to be subtly invaded and changed, as dark symbol for adaptation.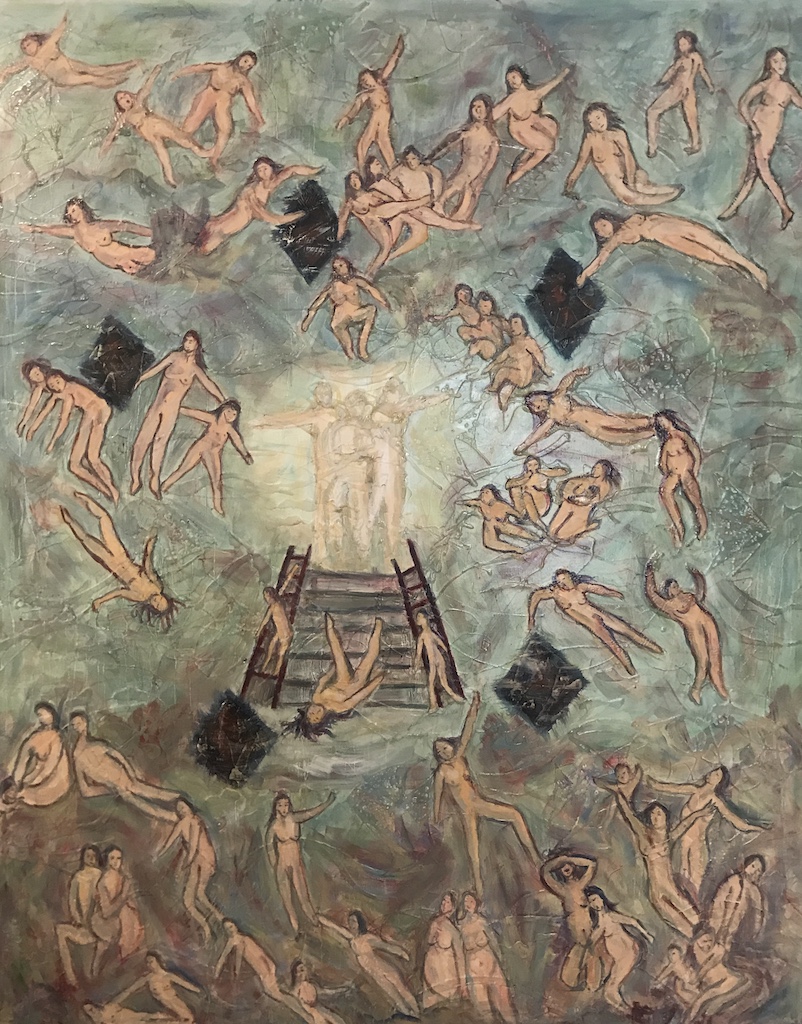 A history of domestic appliances, mixed media on canvas, 100x120x4cm

Exploring power relations and hierarchies, the title denies its historical and religious references, yet patriarchy is there in the central trinity of figures juxaposed with a coat of arms of 5 'diapers', the diamond patterns that led to the synonymous American 'diapers' because of the diamond pattern cloth. We call them nappies in the UK.
Bizarre domestic settings situate women and mothers in new imaginary realms that
challenge domestic legacies of inequality, guilt and misrepresentation that damage women's
mental health.
Dripping and layering canvases creates dynamic networks from which figures weave narratives that aim to humorously engage our empathy and propose that we initiate new conversations about who and what we value.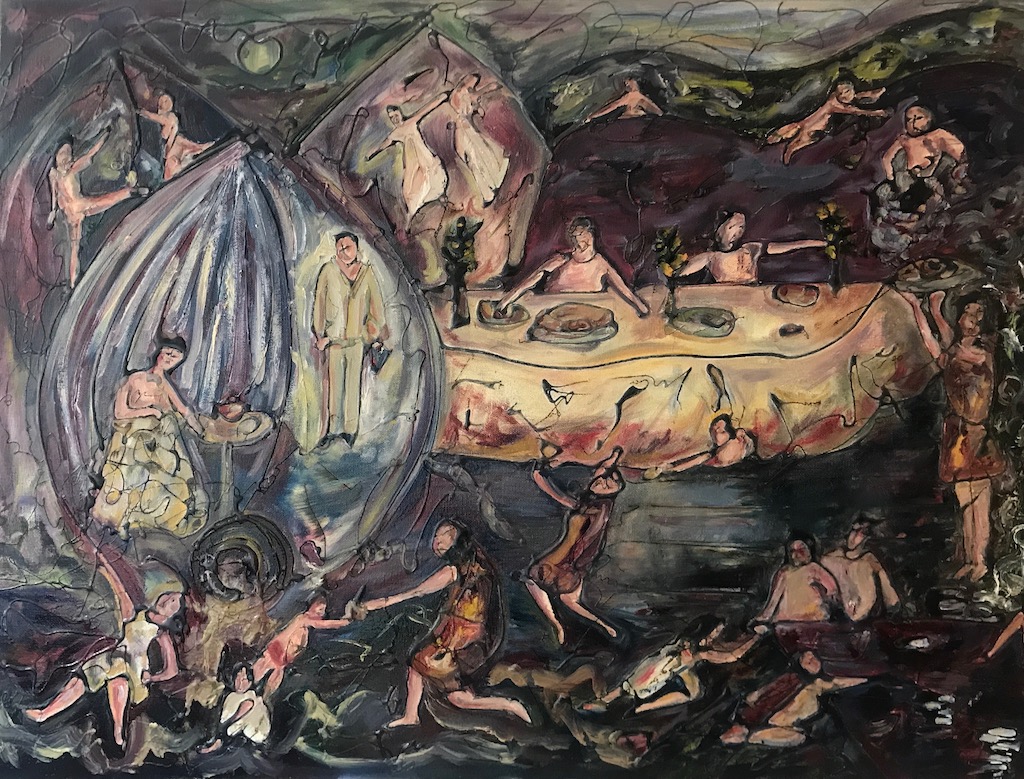 Last and least wait till everything else has been eaten, oil & bitumen on canvas, 60x50cm,
2021

Paintings create rich tapestries of dark yet colourful scenes that aim to re-shape our thinking about equality and visibility. Narrative is a central function of language and to learn to speak is to tell a story – yet that story has primarily been written or illustrated by men. Creating differentiated narratives that layer and connect time, people and equality, takes us on a journey and that 'once upon a time' tells us that things change. As we exist in the middle of
our stories, we all need to be reminded that we can make the ending different.

The title is inspired by 'The Double X Economy' by Linda Scott.
Songs of the masses passing on by, 80x100x4cm, bitumen and oil on canvas, 2020
You might recognise a nod to Gin Alley, Goya's flying figures, the star trek enterprise, colourful
skyscrapers and surreal buildings with 'eye' graffiti (from a photo of a real place). This is a busy, gaudy palette of colour used to communicate the joy and distress of humanity – with dreams of escape.

Paintings create rich tapestries of dark and colourful stories that aim to promote equality, Selfhood and visibility. The pandemic has been a time to re-evaluate our attitudes towards what we care for.
Paintings don't always consciously use historical references yet visual language can often squeeze through the gaps in consciousness to create meaning we didn't know was there.I was thinking about overcrowding and the housing crisis, and thought of this painting as 'space as the
final frontier'. Housing is a huge issue and often the tipping point for poverty and psychological
damage for many families – and that's if they are lucky enough to have a home. I've been made homeless a couple of times in Cornwall over the last 20 years – there is no social housing to speak of and renting is often really difficult because of the pressure from holiday letting. I've always managed to cobble together a home and have been lucky – there are many who are not.
Strange to finally complete the painting during the Pandemic. Most of us have the luxury of some space. But if we do not? It's a health issue and health risk. What are the psychological pressures for families who don't have enough living space, outside space, and who cannot get away?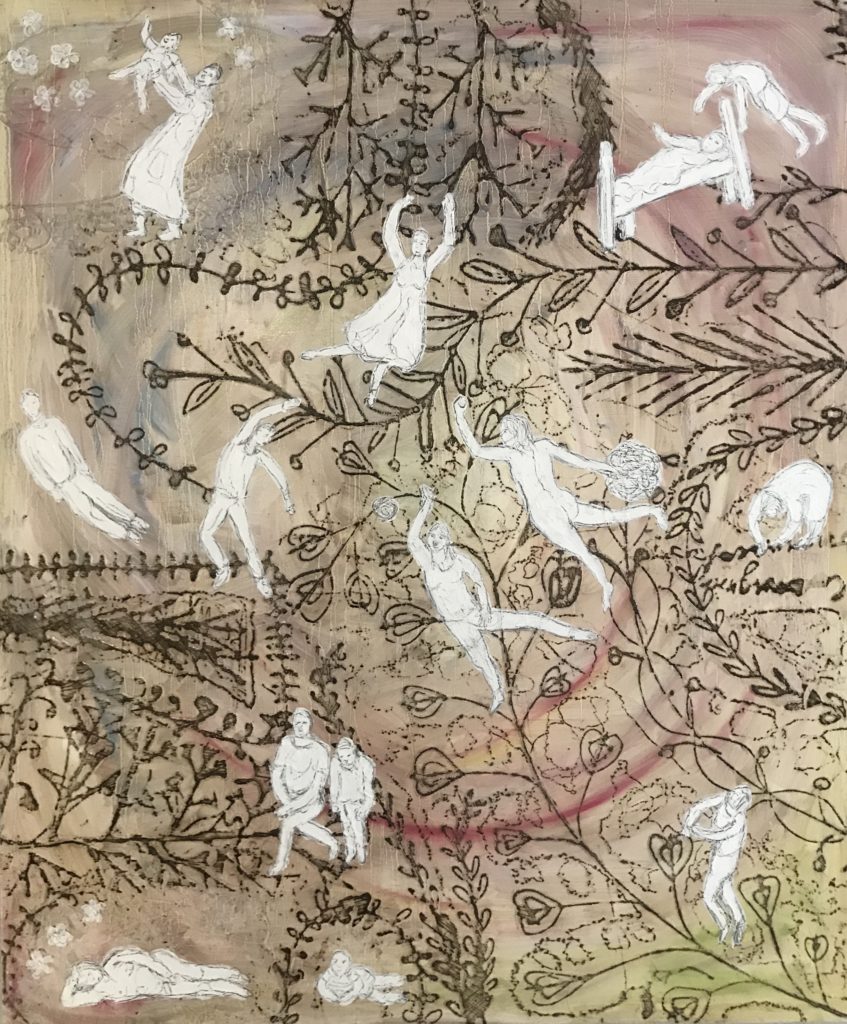 Sign up to hear about what's new below – or view new paintings each week on Instagram:delphahudson