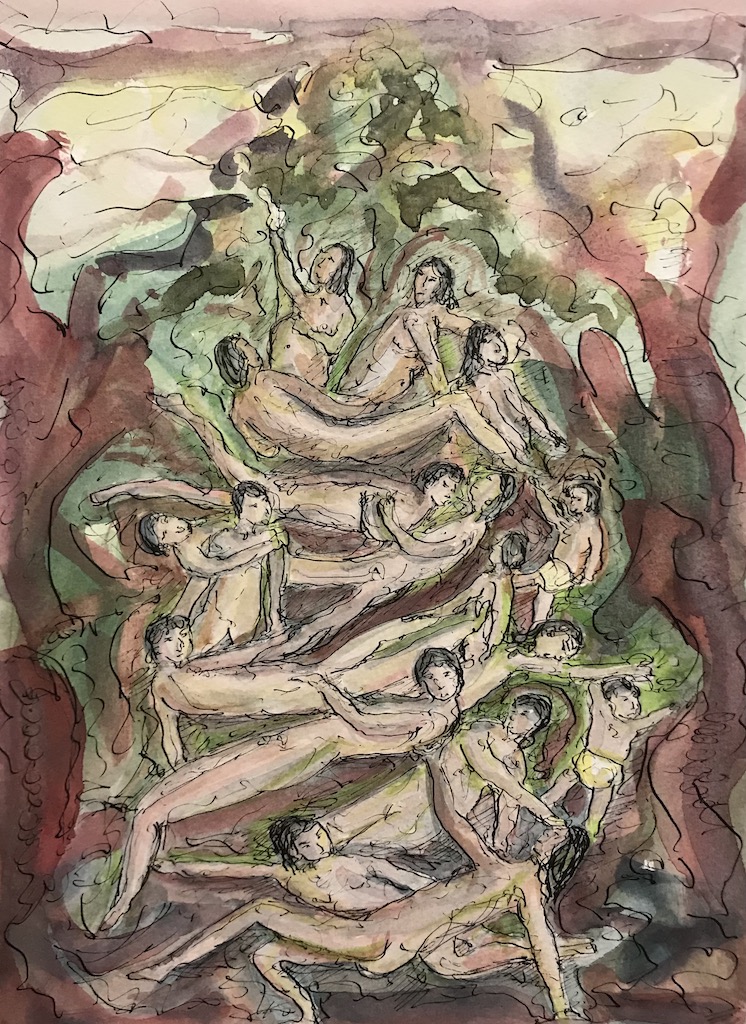 Artist's Statement
I paint chaotic and bizarre domestic scenes of every day life. Surreal and dystopian figures gesture as if from a medieval illuminated manuscript, or an Old Master like Bosch or Michelangelo, but twisted somehow.
Richly textured compositions on canvas use a technique of dripping bitumen, or work on paper uses ink to create dynamic networks or patterns from which figures weave a narrative.
I choreograph powerful female protagonists and situate them in new imaginary realms in order to challenge domestic legacies. Paintings aim to make women and mothers visible. They often laugh at or reveal the devious psychology of denigration or idealisation. Sharing chaotic stories about our common condition aims to engage empathy and engender change.
Paintings use personal and political strategies to propose that through out our lives, we play many different roles. Visually reconstructing our stories and Selves, through madness and mimicry we draw on the past to revision future possibilities. Paintings portray our potential to live with paradox and ambivalence and explore how we might change our stories to survive.
Image: It's hard to imagine the joy of a crowd, watercolour & ink on paper, 23x30cm, 2020
Artist's Biography
Delpha Hudson completed a BA in History at London University in 1985, then had 4 children before returning complete her BA Fine Art (Coventry University, 2001) and MA (Dartington College, 2003).
She has always painted in addition to making time-based inter-disciplinary performance, film and installation, with commissions from Tate St Ives, Newlyn & Exchange Gallery, and many others. She has curated Arts Council funded exhibitions with art collectives including Art Surgery and Salon de Textes.
Delpha developed her own resonant painting work, often using dripped bitumen, through her passion to represent often invisible lives of women and mothers. Paintings have been shown and sold all around the UK in unusual spaces as well as galleries.
Current projects feed into her painting practice, with her latest performance and publication project Theatre of the Self which explores burning diaries, ways of supporting good mental health and representing the Self as always in flux. 
View information about Theatre of the Self
Check out Delpha's latest news – or sign up below for a quarterly email update.