– disobedient domestic sculpture-
A tribute to women and mothers
Small Promethean Acts is a project that combines sculptural installation with sound. Celebrating invisible domestic acts, the project aims to collect and share short stories of the smallest acts of care that make a big difference to other's lives.
Weaving stories and narratives between sculpture and sound to celebrate the invisible, incidental acts we perform for each other, recordings of short stories from mothers and carers represent their strength, resilience and potential.
Creating a critical mass of accumulated small domestic objects and tiny gestural clay figures combined with voice recordings of everyday incidental care presents stories that are never told or re-presented. The everyday lives of mothers and carers involve Promethean acts that are rarely noticed and the grotto like collection of figures with domestic objects, become small tributes on a unmonumental scale.
Current call out if you would like to contribute a short domestic story ( max 3 minute recording or 100    words) SPA callout for stories
Most recordings have been collected anonymously but others can be found on https://soundcloud.com/user-382579533 
First installation at the Hypatia Trust, 13th & 14th July 2019 small promethean acts poster (1)
Small Promethean Acts full list of sculpture works
More writing: delpha hudson_small promethean acts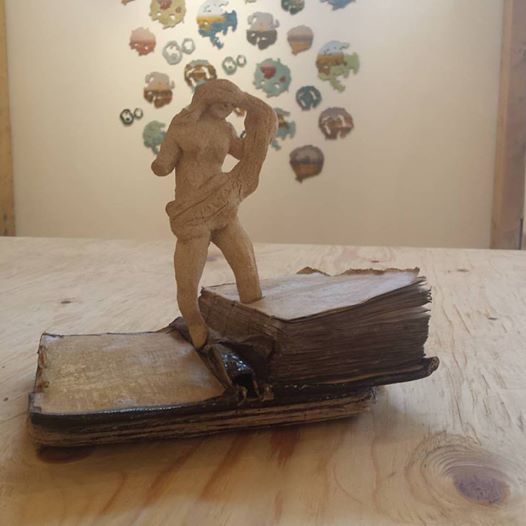 Other projects where clay is used for performance and dialogue: What am I like?  Exchange Gallery, 2013