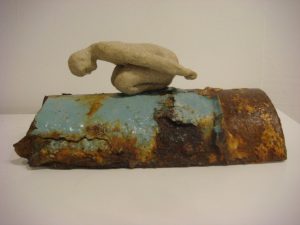 Sculpture works use assemblage or combinage techniques with small found, domestic objects. Sculpture work uses unmonumental scale and concinnity – a harmonious arrangement or fitting together of different parts referring to a studied elegance or style  –  with a twist.
Objects and forms are often combined with writing, dialogically producing surprising connections between things and ideas. All work is exploratory and often destined for a larger installation of small parts, combined and sited with film, sound and performance.
Current project:  
Celebrating invisible domestic acts, the project aims to collect and share short recorded stories of the smallest acts of care that make a big difference to other's lives.
Weaving stories and narratives between sculpture and sound to celebrate and represent the home and domesticity, the final installation creates a small immersive space for reflection.
Accumulated sculpture made from small domestic objects combined with gestural clay figures are displayed on domestic furniture placed in a snail shape as a metaphor for home. The installation is combined with recorded short stories told by men and women of all ages about an act of care.
Everyday lives of mothers and carers involve Promethean acts that are rarely noticed, never told or re-presented. This is a small tribute to everyone who cares.
The first installation of Small Promethean Acts was at the Hypatia Trust in July 2019 and from September 2019 on wards there will be more at Artcore, a residency in Derby.
small promethean acts  a large group of small works of stoneware clay that is moulded into a human form and scaled to a domestic found object. The figures are often partial or fragmented and relate to women, art history, and the body.
Individual works can be viewed here:
short catalogue of Small Promethean Acts 2019
Past Projects:
Other small scale assemblage projects like Objets-textes combine small found objects with writing and poetry. They propose that we 'think through things', exploring our relationship with our physical world and the performance of words are performed on a 3-dimensional plane. Installations of over 100 pieces have been shown around the country.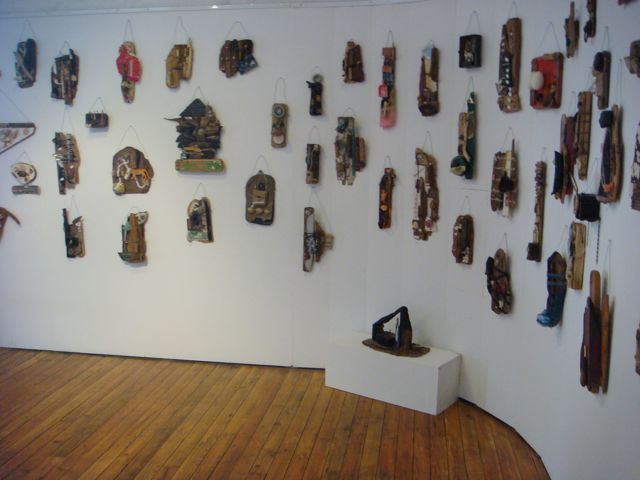 Other Past Projects:
WRITING ON THINGS More information on Writing on Things are other performative works in which concrete poetry is created in combination with objects, through performance or as part of a performance
Saw Sings more information about specific works that combine objects and texts