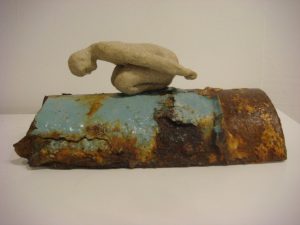 All of my sculpture work is unmonumental in that it is small scale. It is often made out of found objects and uses assemblage or combinage techniques with text.
Projects I've been involved in over the years often include work made for performance as well as site-specific installation:
In my studio I mostly work with works that could fit in your hand and many are made to be held and handled.  Stoneware clay is moulded into a human form and scaled to a domestic found object, creating a dialogue between Subject and object. The figures are often partial or fragmented and relate to the body and performance.
As a series of works they are Object Relation – telling stories about bodies and women's lives as well as creating relationships between ourselves and the objects we own
Small Promethean Acts is an up coming installation which combines many of these works with audio and video.
More information here: small promethean acts
Individual works can be viewed here:
short catalogue of Small Promethean Acts 2019
Object Relation list of some works sept18
Other small scale assemblage projects like Objets-textes combine small found objects with writing and poetry. They propose that we 'think through things', exploring our relationship with our physical world and the way in which words are performed on the 3-dimensional plane. Installations of over 100 pieces have been shown around the country.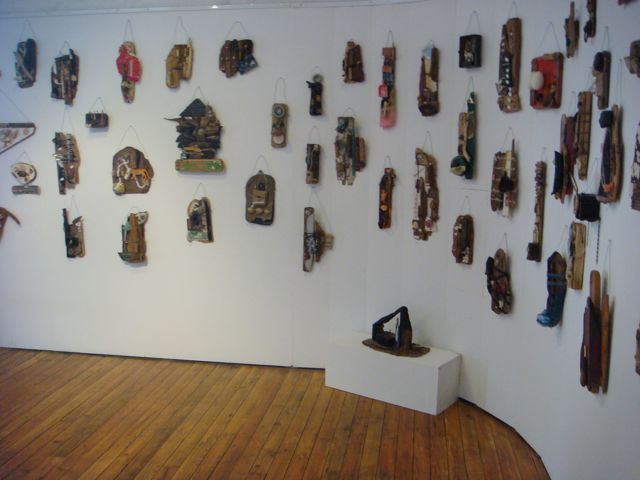 Other projects:
WRITING ON THINGS More information on Writing on Things are other performative works in which concrete poetry is created in combination with objects, through performance or as part of a performance
Saw Sings more information about specific works that combine objects and texts
More sited sculptural installations on: http://www.delphahudson.co.uk/domestic-mottoes/