I love creating simple figurative narratives in watercolour and ink and my lockdown watercolours project invites everyone to share their stories and experiences. 
If you would like to send me your unique lockdown story and have me paint it, please send me a synopsis in a few brief sentences of your experiences during lockdown (at least 3 sentences is best).
Email me at: delpha@delphahudson.co.uk
I will send you a jpeg image and if you would like to purchase your own unique watercolour painting for £25,( 15x18cm),we can then exchange further details for payment and posting.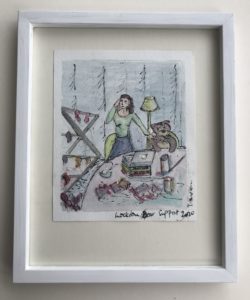 For an extra cost of £25 you can also have it framed, making a total of £50 for your unique framed watercolour. (Framed 20x25cm).
This is a special price for original paintings – just for this project. I hope you will enjoy them as much as I like painting them.
Rachael Gaunt's Story:  '…imagine a lovely 1950's inspired side board with 3 graceful architectural cityscape models on top in Perspex display boxes. An elegant floor standing lamp with ironic trad shade. Then cut to the dining table in front of the scene. Here sits a woman in her PJs with black jumper over top. Around her on the table is tracing paper, coffee, a notebook and a laptop perched on 2 boxes of kids puzzles. Behind the laptop is a scene of utter chaos. A wooden clothes maiden with 3 day aired dry washing. Piles of unopened post. Half hearted homework projects for the kids. A 1/2 finished wooden robot. Something in a bowl that was possibly once cereal. Every surface in the room beyond the 'teams' camera angle is carnage.
You don't have to imagine this scene. It's real. Just look through my living room window.
Oh ….. there is also a spanner, puncture repair kit and a bike pump and a three foot stuffed cuddly toy sat in one of the dining chairs staring vacantly at me while I stare back.'
Do look out for #lockdownwatercolours and #lockdownstories on facebook or instagram. 
And…. my own lockdown experience: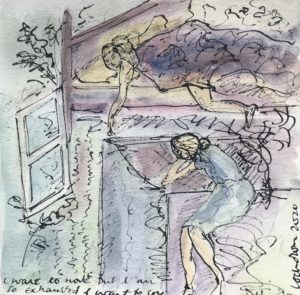 This is my own lockdown story and painting. The truth is I gave up smoking and felt very ill during the first weeks of lockdown (Irony! was my system was busy recovering? No definite prognosis). Everyone was talking about their creative projects and I was so tired and lethargic I could barely get out of bed and felt like crying with frustration. I only dragged myself out of bed to to post something positive on social media (irony again!).
I felt so pathetic because people were really getting ill and even dying. It was difficult to talk about feeling -well-just a bit super-crap by comparison. I bet there are others out there who experienced something similar.