I use bitumen as a conceptual paint medium to explore a variety of political and societal concerns. Liquid Selves are monochrome works made since 2006 that explore politics of female identity that use bitumen as a metaphor for metaphysical and subjective fluidity. Metaphysical Positions are works from 2017 that add movement and colour.
All works are for sale: medium sized paintings price list from £500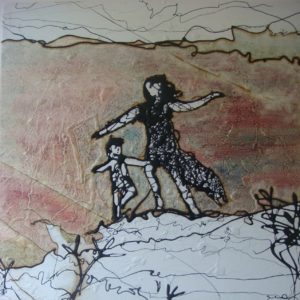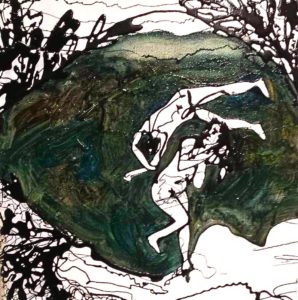 Metaphysical Positions use bitumen paint as a metaphor for fluidity and movement and these paintings explore fluid identity and empathy through figures that create relationships between gesture, form and colour.
Metaphysics is a branch of philosophy that deals with abstract concepts of being, knowing and identity. Feminist metaphysics  explores the cultural constructions of gender and selfhood and these small works use figurative and historical gestures to reconfigure and represent possibilities for fluid female identity and selfhood.
Using bitumen paint to create tactile, performative gestures that invoke bodily engagement and empathy for the human condition. Different  modes of being can be interpreted through movement and present alternative realities for fluid selfhood, where we are no longer single unitary beings but multiple.
They express a non-narratable self;they undo identity, and put differences together.
In 2011 I self-published a book about  Liquid Selves: the fragmentary and multiple nature of Self; a self-published book about dripped bitumen paintings which explored the fragmentary and fluid nature of self in 3 voices. This is currently unavailable but undergoing a re-edit for re-publication.