Paintings create rich tapestries of dark and colourful stories that aim to promote equality, Selfhood and visibility. The pandemic has been a time to re-evaluate our attitudes towards what we care for. Paintings don't always consciously use historical references yet visual language can often squeeze through the gaps in consciousness to create meaning we didn't know was there.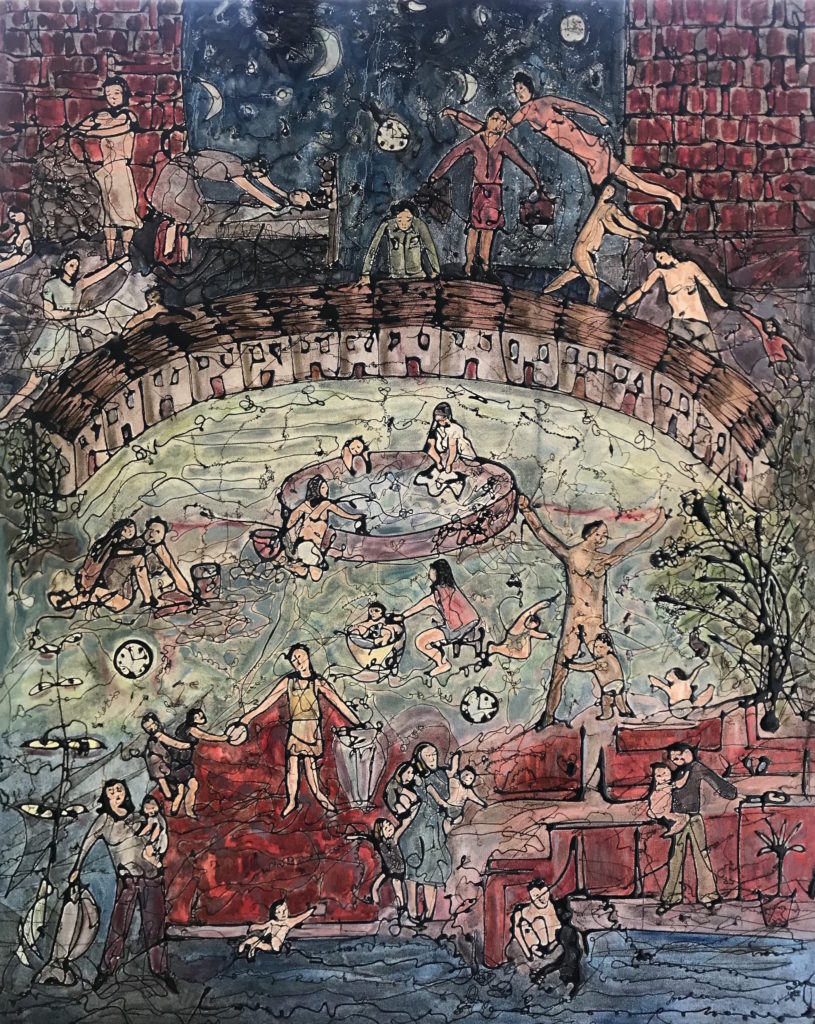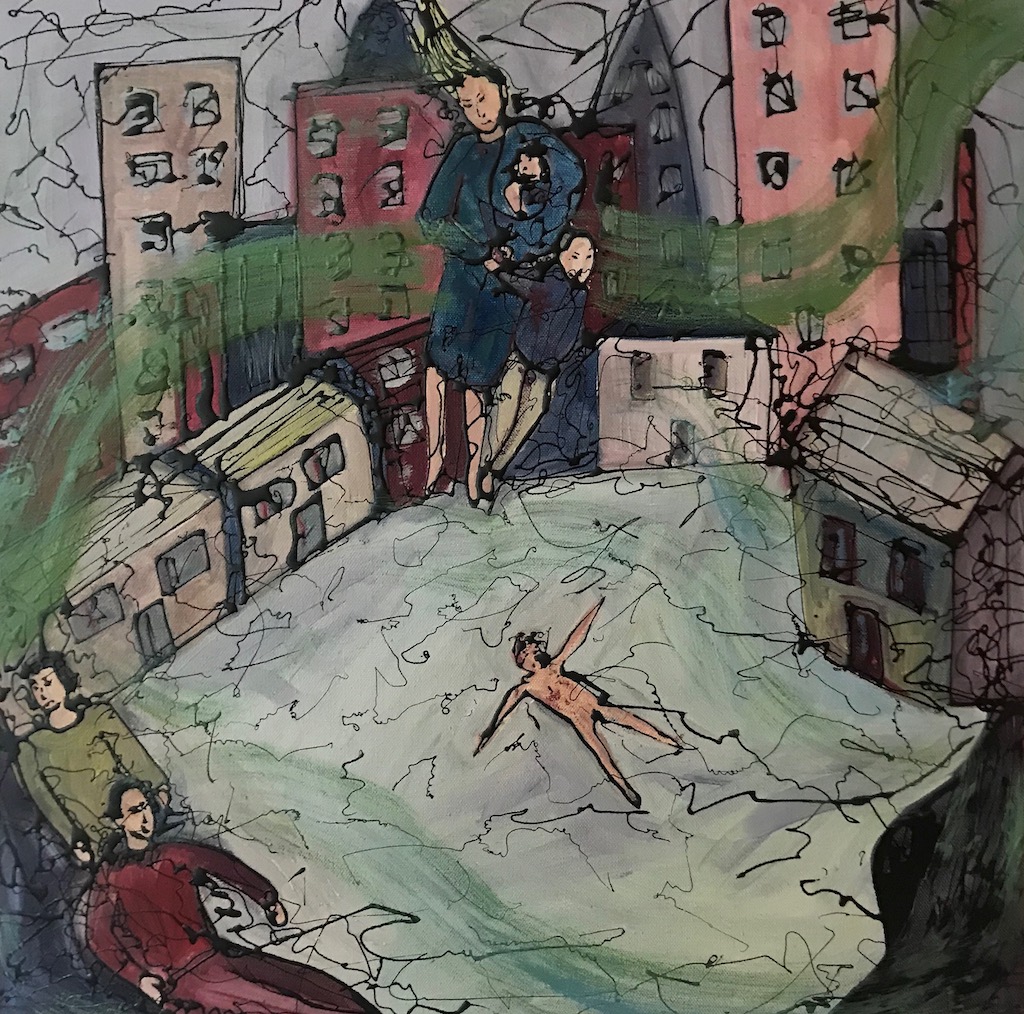 Works on canvas start from £500 – £3000. Get in touch if you would like more information.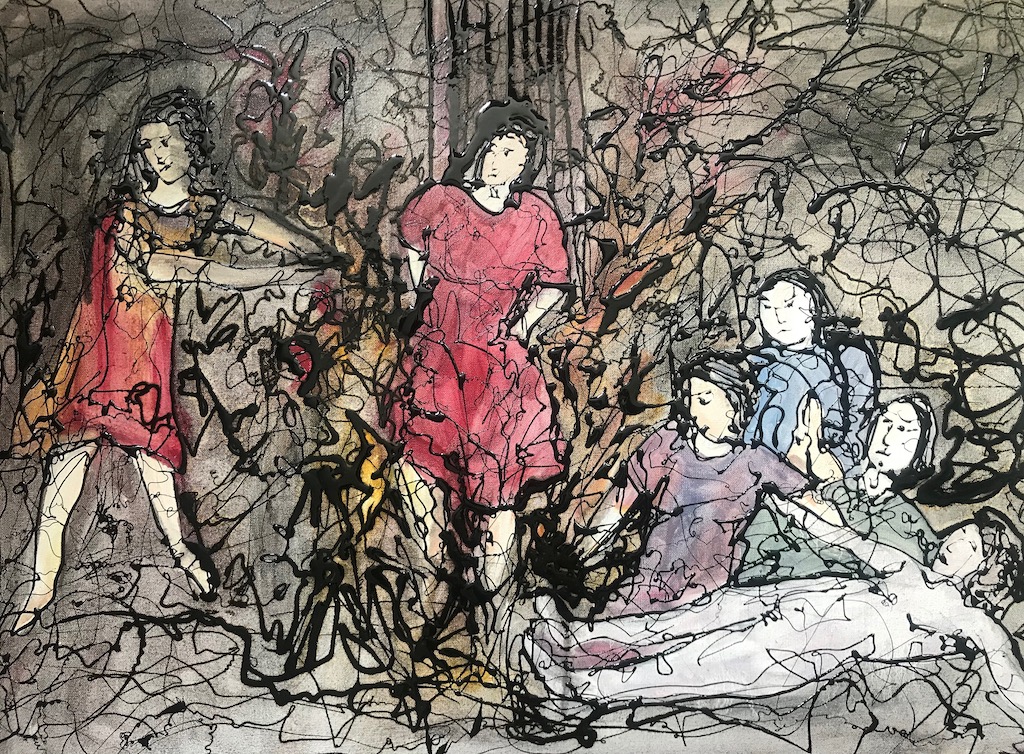 Watercolour & ink paintings were selected and exhibited online at a number of galleries & exhibitions in 2020. They are all on archival 300msg watercolour paper and available for sale here.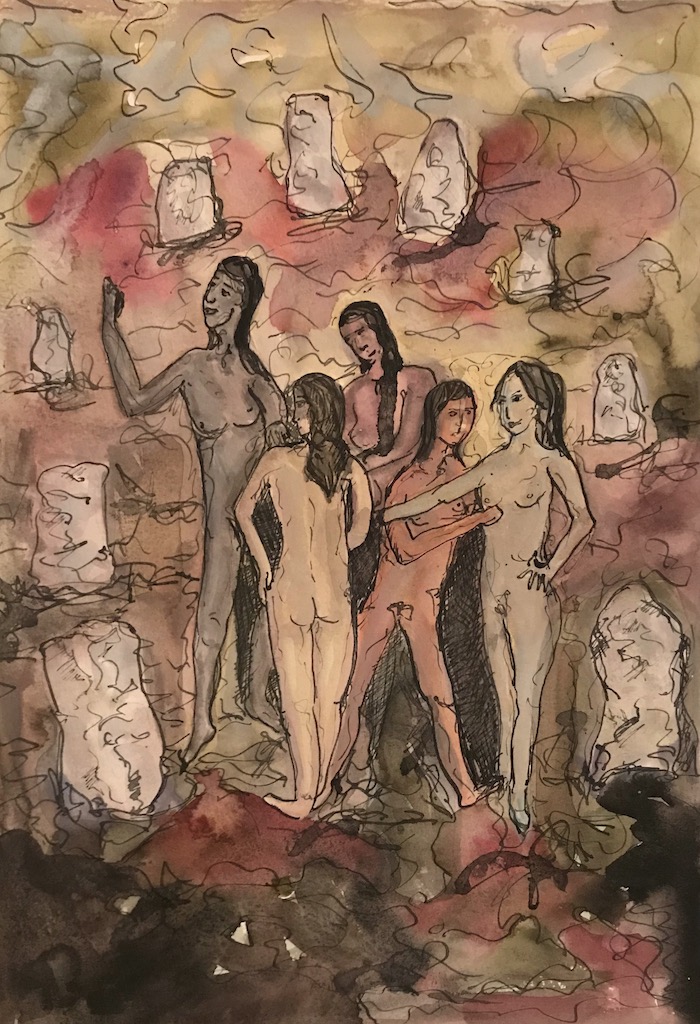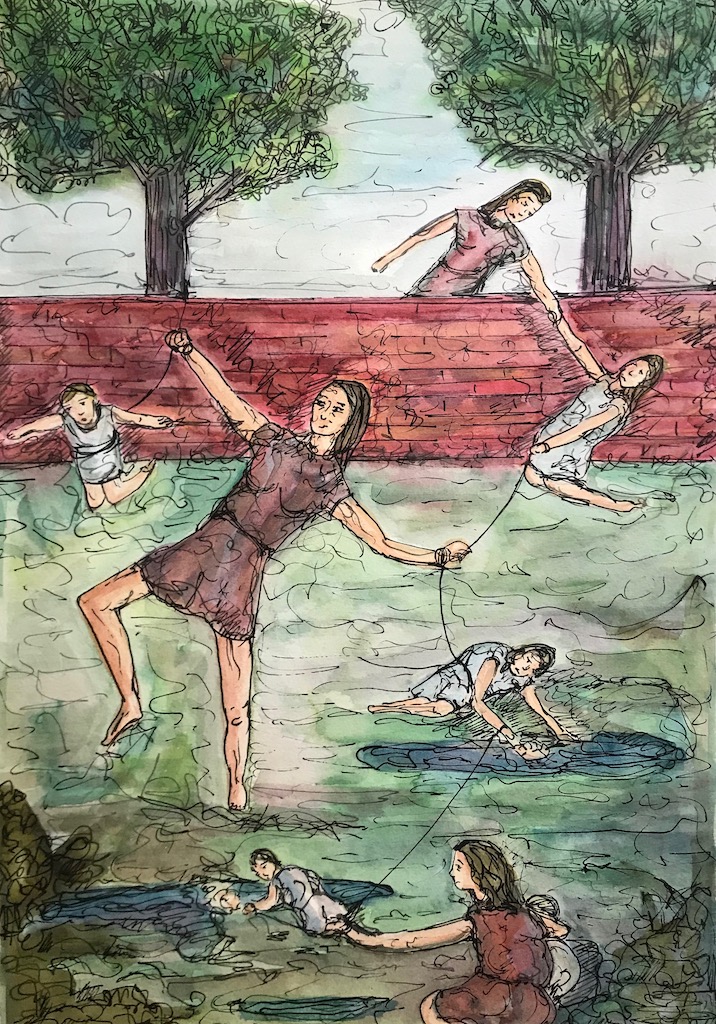 View more watercolours with prices.
Lockdown story watercolours are small (all 15x18cm) watercolour & ink works on paper. The project started during the first lockdown in March 2020. They invited everyone to share their stories and experiences for good mental health.These stories were visualised and shared – or the original watercolour purchased for £65. It's an ongoing project. Get in touch if you would like to share your story.
Not enough hours in the day is an example of a small domestic watercolour selected for Distanced Domestic by Co.Curation. Other paintings were shown online with Newlyn Gallery & Exchange, Penzance, 2020
Delpha is involved in other projects that inform her painting & studio practice, one of these was her performance and mental health project Theatre of the Self. Performed and documented in 2017, the book was written and designed in 2020. It was published on January 5th 2021 and the project is online with the books are for sale. Project supported by Arts Council & Cultivator funding.
Themes from my arts practice were used in films made during Lockdown 2020. They echo ideas about exploring the stories we tell ourselves about ourselves, suggesting that we can re-write our stories and move differently across the 'page' of experience in order to improve our mental well-being.
Like a Ship Righting Itself (3.39 mins) made during lockdown in June 2020, is the first film of a series of microfilms about women and mental health. Each film starts with an idiom, a domestic object and a story or text. They are then 'acted upon' in a local landscape. They contain metaphors of survival and suggest that we can all be 'makers of self ' through narrative re-structuring.
The second film Swept Under the Carpet, (3.5 mins) made in August 2020, features a writing and performance collaboration with Dr Marianne May and again follows themes of women, mental health and story telling.
Recent films hark back to feminist film performances I made from the late 1990s. There are other films available to view via my archive: or online like Life Sentences
Sign up to hear about what's new below – or view work on Instagram:delphahudson