CV: Delpha Hudson Artist's Resumé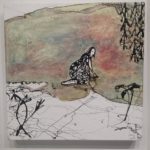 Delpha Hudson is a British artist born in Surrey in 1963. She currently works from her studio in Bread Street, Penzance.
From the late 90s her performance practice explored many aspects of women and the self, using the body, masquerade, city spaces, and maternal and historical tropes. She continues to use materials in performative ways, working with small clay sculpture, objects and assemblage. Delpha Hudson's paintings explore women's lives using very physical processes like dripping bitumen paint from a stick. The process is messy and visceral, as well as unique as even mistakes can never be exactly replicated. The figures that emerge use gestural motifs to provoke and engender empathy and understanding. Delpha Hudson's work uses palimpsest, humour and contradiction to engage audiences in seeing and experiencing mothers and women's lives in new ways, communicating the ambivalence of women's live and mothering.
Delpha Hudson originally studied BA History (1985) at London University and often uses historical research in her arts practice. Deciding finally to follow her passion for painting she studied BA Fine Art at Coventry University (2001) becoming involved in performance practice, video and multi-media installation. Her MA at Dartington (2003) explored representations of motherhood and her work was selected for many video and performance festivals around the UK and in Europe. As co-director of Art Surgery with Andy Whall (1998-2008) she received Arts Council funding for site-specific performance and video. In 2007 a performance work Miss-Readings was commissioned for the Art Now Cornwall. Joining the Newlyn Society of Artists her painting and sculpture work have been shown widely through different galleries around the UK. In addition she still has a varied arts practice that includes recent performances in Venice (2016) and the Leyden Gallery, London (2017).