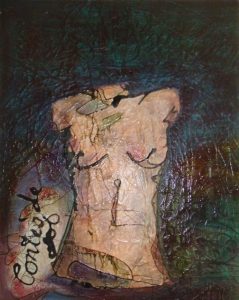 Exploring the politics of domesticity and female identity, painting projects often use bitumen paint as a metaphor for fluidity and failure
Bitumen paint has unique properties, dripped from a stick it creates depth and when it is the right viscosity it will spin making beautiful patterns, spinning tales – the stories we tell about ourselves and our bodies.
Bitumen is a dark earthy material, almost like a 'mothery', the slime life crawled out of. Dripping is a fluid process, malleable and involving clumsy chance and failure. Each art work is unique, and can never be replicated exactly.
I see the process of making as performative and indeed the tactile and layered surfaces as performing and em-bodying meaning.
Liquid Selves are
monochrome works that explore politics of female identity, using the chance forms as metaphors for metaphysical and subjective fluidity. They express a non-narratable self, undoing identity, and putting differences together.
 Ironic Iconographies  Parody classical rhetorics of painting and slyly condemn the way in which the female form has been associated with nature or used as a vehicle to represent male values.
Domestic Dystopias are apocalyptic visions of mothers' lived experience. They are funny and menacing hoping to provide an ambivalent depiction of mother's lives and the domestic that combine the ideal with the monstrous and the mundane.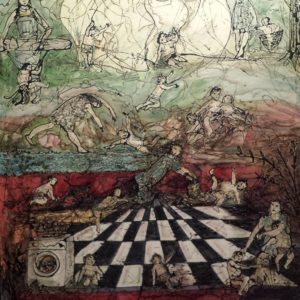 Metaphysical Positions are small works (all 40x40cm) that explore empathy through gesture movement and positioning.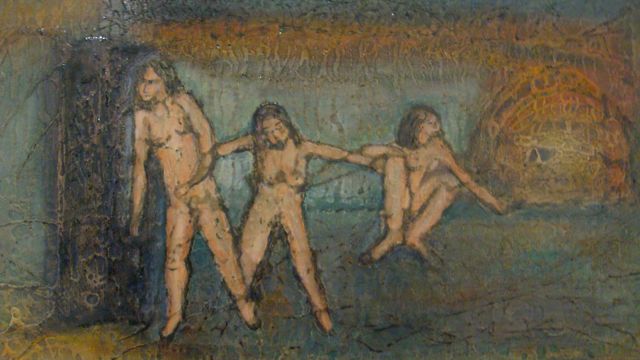 Embodied paintings perform and write the body, using bitumen to create layers of text and form to create multiplicity and selfhood.